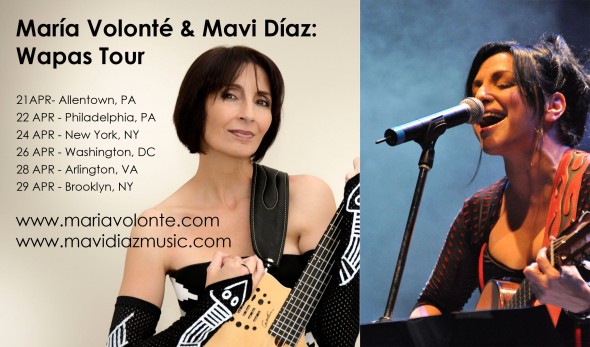 María Volonté & Mavi Díaz: Wapas Tour
Tuesday, April 24 – 6:30PM
Consulate General of Argentina in New York
12 W. 56TH St.
New York, New York, 10019

Free admission – Limited seating
Please RSVP: rsvp@cnyor.com
María Volonté and Mavi Díaz are two icons of Argentine music who exemplify a passionate commitment to the artistic life and symbolize the important role of women as driving forces in Argentine music. Both are tireless musical adventurers who continue to break new musical boundaries as prolific songwriters and constantly evolving performers.
The "Wapas Tour" is the joint endeavor of these two artists, existing as a side project for both of them. When their busy schedules permit, Maria takes a break from her tango-blues fusion project "The Blue Tango Tour," while Mavi takes time off from her Argentine folk-rock band "Mavi Díaz & Las Folkies" to perform together.
Maria and Mavi have performed in Argentina and, with the support of the Argentine Foreign Office, have toured in Europe. Their tour of the United States in April 2012 is also made possible through the generous support of the Argentine government.
About Mavi Diaz:
Gardel Prize-winner Mavi Diaz is a former rock star (a founding member of "Viudas e Hijas de Roque Enroll" and currently of "Mavi Diaz y Las Folkies") who is shaking up the Argentine folk music scene with her original compositions. Daughter of the world-famous harmonica player Hugo Diaz, she was surrounded by the best Argentine music from an early age and has dedicated her life to putting that legacy to good use as a performer, composer and producer. Her latest folk-rock music CD "Sonqoy" is tearing up the Argentine music charts and helping to bring folk music back to the center of attention on the popular music scene. Website: http://www.mavidiazmusic.com/
About Maria Volonte:
Maria Volonte is a Latin Grammy-nominated singer-songwriter from Argentina celebrated around the world for the stories she tells through her songs, her exquisite voice and her intense live performances. A tireless adventurer in music as in life, Maria lives year-round on the road, criss-crossing the globe to share her music with new audiences. She is currently exploring the intersection of tango, Latin folk music and blues with her "Blue Tango Tour" together with California harmonica player Kevin Carrel Footer. She has released 8 award-winning CDs. Website: https://www.mariavolonte.com
*****************
Free Download:
Download a free song from Maria Volonte's new album: https://www.mariavolonte.com/free-download/